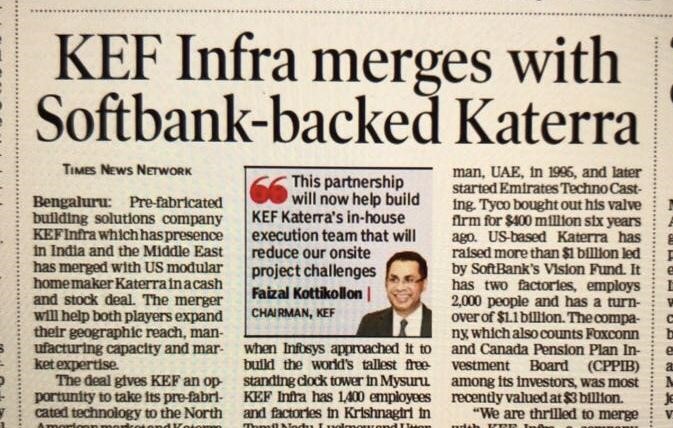 23 Jun

My thoughts on the very unique KEF Infra-Katerra merger

I met Faizal Kottikollon in Dubai in 2013.

He struck me immediately as an anomaly. How could someone who had been so successful – building a multi-billion dollar manufacturing business out of Dubai – also be so humble and so passionate about his new project?

This new project was focused on pre-fabrication of buildings. Faizal took a couple hours out to speak very excitedly to me – a 25-year old nobody – about his dream of building pre-fab schools in Kerala, a state in India from which his family hails. He wanted to start with schools and hospitals for reasons of social good, and then take this pre-fab technology and approach to rethink how construction gets done globally.

Faizal was not the first, nor the last, to think of pre-fab, of changing the construction industry. Coming from him, however, I started believing it might indeed be possible, partially because I believe some of these advances must come from the emerging markets and not the developed world. I told many people in the coming weeks, months, and years about Faizal, who for some reason very few people knew!

Why construction? Construction is one of the largest industries globally, and it hasn't changed in a long time. Construction technology, particularly anything that makes the capital- and time-intensive construction process more efficient, thus represents a powerful opportunity. Having partnered with EquipmentShare, we are actively looking for our next large construction technology play.

A couple days ago, Faizal announced that his construction firm – KEF Infra – has merged with Katerra. Katerra is backed by Softbank and is founded/run by Michael Marks. I had heard of the legend of Michael Marks when we did business with Michael's private equity firm, Riverwood Capital, down in Brazil.

This is such a unique merger between a Dubai/India-based firm and a Silicon Valley company – I can't think of another example. It likely pairs unique technology, know-how, and capital with access to and understanding of some of the most important pre-fab test markets. It pairs a fast-moving hub for emerging markets with a hub for technology innovation. From what I can tell, it also pairs 2 men with very similar visions and passions.

I've met a lot of successful people through my line of work, but my meeting with Faizal stands out to this day, and this merger between KEF and Katerra does too. The economics of the deal are not clear and neither are the economics of the pre-fab approach, but it's exciting and I look forward to learning more. Keep an eye on it!