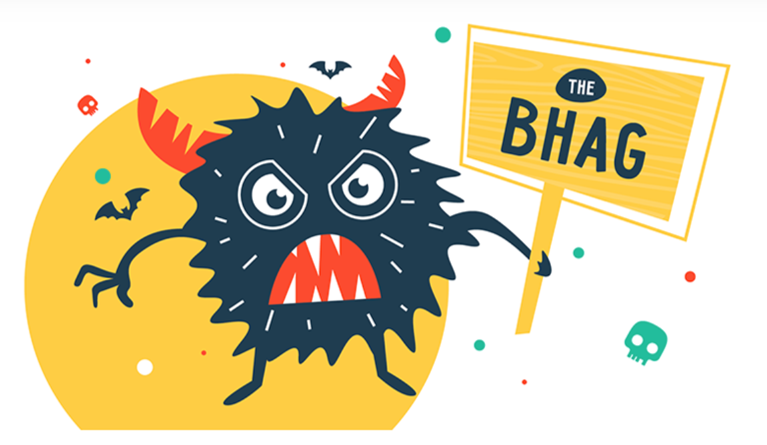 15 Apr

Cohealo: Big Hairy Audacious Goals and Service in a Time of Crisis

When the COVID-19 crisis emerged, companies across the country and around the world bristled. Amid uncertainty and fear, an instinctive response for all of us is to retreat: To protect and defend what you have. To keep your head down. To accept a new reality that is worse than the old reality.

Retreating is the last thing any company should do right now. As I've said before, this unprecedented time has created an unprecedented opportunity for companies to be creative about their offerings, to grow closer to their customers, and to demonstrate—decisively—their value. Now is the time for companies to be audacious and to have a growth mindset, even as that is accompanied by a environment of rationalization.

Over the past few weeks, I've encouraged the entrepreneurs I work with, my partners, to think and act audaciously. The companies that survive this crisis and leave a lasting imprint on their industries will be those that navigate this period offensively as well as defensively. The ones that crystallize their ability to create value for customers—even during this crisis—will be the ones that define the next decade.

BHAGs in the Time of Corona

Inspired by Jim Collins, I challenged our entrepreneurs to come up with a BHAG—a big, hairy, audacious goal that, if achieved, could have a transformative effect on the company or industry at large.

Todd Rothenhaus, CEO of Cohealo, did just that. A seasoned healthcare executive with previous stints as Chief Medical Officer at Athena Health and Chief Information Officer at Steward Health Care (in the aftermath of the '08 crisis), Todd understands the systemic challenges facing his industry, which have been amplified by the pandemic. At both a macro and a micro level, he understands the obstacles facing the national network of healthcare systems and the daily challenges with which individual hospitals grapple. And he got to work.

The win-win opportunity he discovered was the universal need for ventilators, a need that sits at the nexus of both the macro and micro challenges of the healthcare industry. Individual hospitals need ventilators to save lives. At a national level, we don't have enough, and some hospitals need more than others.

This problem, Todd, Brett, and team realized, clearly lends itself to the thesis upon which Cohealo was built: that sharing equipment between and among hospitals and health systems can have both medical and economic benefits, in both the short- and the long-term. The idea that Cohealo could deploy its technology to facilitate ventilator-sharing at a national level was an audacious one, premised not on making incremental internal changes to help Cohealo survive, but rather on taking a transformational step to benefit customers.

The Cohealo team went after it, working evenings and weekends when most companies are finding it hard to maintain a normal routine. Todd and I stayed in close touch – at one point I simply texted him to "Stay audacious" and he responded "Channeling [Jonathan] Bush," referring to the founder/CEO of AthenaHealth. I love the commitment.

On the other end, the American Hospital Association had been tasked to spearhead a project to share ventilators and it went looking for the best technology partner…and of course they came to Cohealo.

How One Company's Audacity Will Save Lives

Yesterday, President Trump announced the launch of the Dynamic Ventilator Reserve in his daily Rose Garden briefing, as part of his plan to reopen the US economy. This partnership with the AHA, FEMA, leading group purchasing organizations, and prominent healthcare systems is designed to allow national health systems to share their ventilators using Cohealo's technology. The Cohealo platform will provide insight into ventilator utilization and capacity at the facility, regional, and state-wide level to inform re-distribution efforts, while ensuring safe and efficient transport of ventilators among hospitals.

This is a transformative step, with both a public health and an economic impact. Ensuring access to ventilators could expedite the process of reopening the country's economy, while saving lives.

In March, Cohealo accepted the challenge to think audaciously. In a matter of weeks, the company was able to build the requisite relationships and a plan to operationalize an unprecedented and logistically challenging ventilator-sharing network. This execution is an inspiring example of how entrepreneurs can turn any crisis into an opportunity. I'm encouraged by Cohealo's story, and I'm excited to see how entrepreneurs across the portfolio and entrepreneurs who are dreaming up their next companies will set and achieve BHAGs in this challenging time and, in doing so, will transform our world.

Interested in learning more about how Cohealo achieved its BHAG? Check back tomorrow, when I'll share a video interview with Cohealo CEO Todd Rothenhaus.